Lately I've been glued to a programme called Your Garden Made Perfect.The premise of the programme is to show home owners what they can do to transform their gardens.

Two designers come up with different designs which they then show the clients in Virtual Reality. I'm absolutely fascinated with this programme for 2 reasons:

1. I love my garden and I love all things flora and fauna – so these garden / nature type programmes are right up my street!

2. I'm equally fascinated by VR and what can be achieved with it. I own a VR headset myself and even though I get a bit dizzy after too long on it, I enjoy the escapism of it – great for creative minds!
The scenes they create for their clients are mind blowing – so realistic! They even emulate the movement of sun across the garden through the day.

This, in my opinion, should be the standard way all design work should be undertaken when it comes to physical projects such as building a house, commercial building or garden.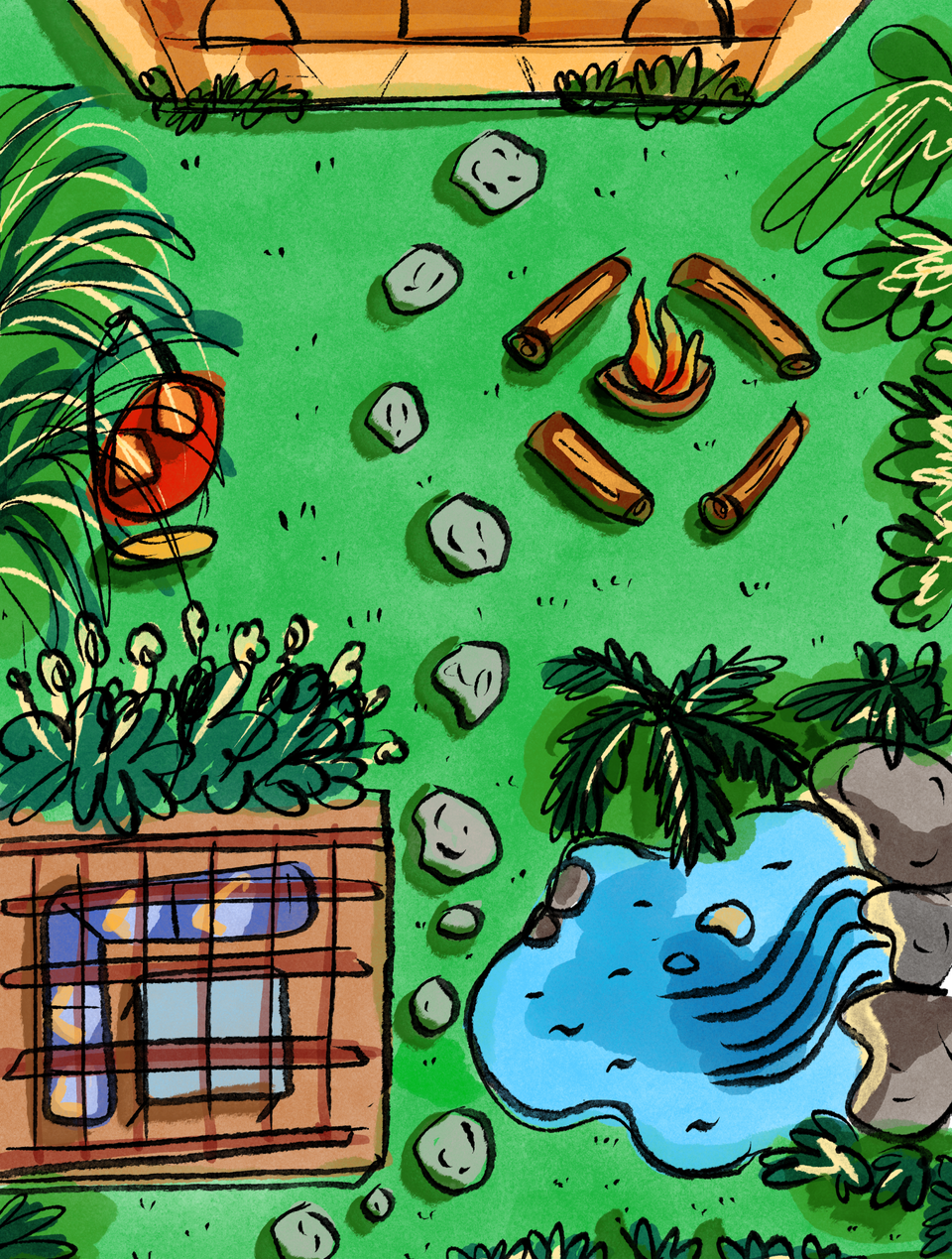 My enthusiasm for the programme got me thinking – what would my ideal garden look like? I mean – barring any financial hurdles of course – but let's pretend money isn't a problem and I could do what I like… What would that look like? And because I'm a visual person I quickly pulled out my iPad and began to sketch.
I love using the iPad Mini for all my digital artwork. Its small, lightweight and I can pop it in my handbag any time I go out. Simple. Using the Apple Pencil in Procreate (may favourite art app),
I sketched out and laid in colour for my dream garden…ahhhh… lovely. Now I just need some cash to make it happen! Got a spare £50,000.00 laying about?… Anyone?…
Ok so enough dreaming, let me go through the main elements of the sketch a little more.
It's a bird's eye view of a rectangular shaped garden. At the bottom is where the house is, and the big blue rectangle is supposed to be a conservatory.
When you're sat in it and you look out – you get to admire the rock pool water feature and the palm trees behind that (what can I say – having been born in Africa has given me a penchant for the exotic!)
To the left of the rock pool / water feature is the pergola / pagoda (never sure what to call it?) basically a wooden structure that provides interest and shade.
Under that is a large corner sofa chill out area with a coffee table for those all important morning croissant and coffee sessions.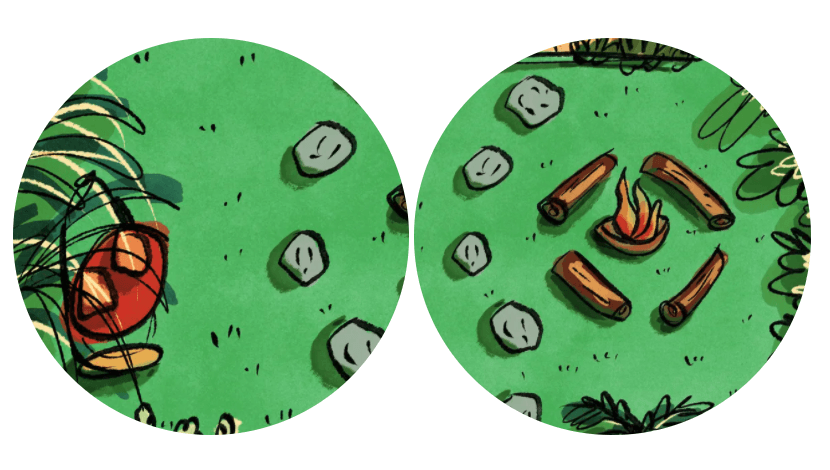 On the other side of the garden is a 2 seater swing chair (red) and opposite that the firepit and logs for seating. The large stepping stones lead you right down to the end where the Art Studio sits – a large log cabin with its own front patio area.
The garden is lined with flowers, trees and bushes that enclose the area and make it feel like your own personal paradise.
I hope you enjoyed taking a stroll with me through my dream garden! 🙂